Euro Nymphing for Grayling in Scotland
In Scotland, we are blessed to have 30,000 lochs filled with wild brown trout and hundreds of salmon rivers, including The River Spey, River Tay, River Tweed, and River Dee. There is, however, another jewel in our Scottish Rivers, the wonderful, enigmatic and intriguing Grayling.
Grayling are not a native species inScotland. They were introduced to the River Clyde from Derbyshire (East Midlands of England) in the mid 1800's, and then by enthusiasts and anglers to the River Annan, Ayr, Earn, Nith, Tay, Teviot and Tweed, where they thrived in the clean water with rich feeding, and spread to some of their tributaries like the Jed water, Ale, Leader, Ettrick and Lyne Water.
This is the story of a fishing guide in Scotland, who sees opportunity at the end of the trout and salmon fishing season, to switch to a different quarry. To brave the elements, and target the Lady of the Stream. the Grayling. The Grayling is a true wild fish, and member of the Salmonid family, Latin name (Thymallus thymallus).
Overseas guests might find it hard to believe that Scotland has some of the finest Grayling rivers in Europe.
What do Fishing Guides in Scotland do in the Winter?
As a fishing guide, winter is a time of year when firstly I get a chance to steal days away from the desk and looking after my son, and enjoy the odd day on the river. There are two main rivers we target. The River Annan in South West Scotland and The River Tweed system in The Scottish Borders region. Both of these rivers hold massive stocks of wild Grayling and are within easy reach of my hometown of North Berwick (near Edinburgh).
I caught my first Grayling when I was 11 years old. That was 47 years ago. I was a skinny wee lad, standing on a bridge on a tributary of The River Tweed, called the Leader Water. Staring into the water from above I was surprised and excited to spot a huge fish moving upstream.
I was new to fly-fishing and don't even know where my interest came from, none of my immediate family fished. I had inherited my Uncle Jimmy's 11ft 6inch Daiwa Whisker fly rod. The Whisker was a big floppy sea trout rod, too heavy for trout and designed for single hand fishing in smaller rivers. I loved it nonetheless, and its length proved useful when steering bugs and nymphs into awkward spots, as little casting was required. I think in 1973 I pioneered my own form of what's now called Czech or Euronymphing, without even realising! I had a secondhand Leeda LC100 fly reel, bought from F&D Simpson tackle shop in Edinburgh, with money I had saved from washing cars. A small plastic 35mm film case was my fly box, and it was filled with home tied weighted shrimps, all very crude, but highly effective.
Here I was now staring down at that leviathan, watching it move slowly upstream. I ran down to the riverbank and positioned myself 50 yards upstream. In those days that particular bank was free from undergrowth, I've since been back and you wouldn't get down there now, its as wild as the Amazon rainforest. I began to fish my way down to where I thought the fish might be, and half way down, I hooked into something very big, certainly bigger than I was used to.  Heart thumping and all senses working overtime, I was delighted and surprised to see a huge Grayling shimmering in the net. This magnificent silver and iridescent fish, temporarily out of his element, huge dorsal, remains a memory that will stay with me forever and laid foundations of a lifetime fascination. It weighed a few ounces under 3lb, my first ever grayling! A specimen when you consider the UK record is 4lb 4oz.
Nowadays my grayling fishing is a real treat, a chance to get out in the winter and enjoy some meditation and time alone. To shut down the conscious babble and relax, escape the iMac and put my absolute focus into hunting my quarry.
Techniques For Grayling Fishing
The Grayling is a soft mouthed bottom feeder, although occasionally they will take a dry fly. Because their mouth is downturned, when they do take a dry fly, they are in almost a vertical position in the water column.
The combination of a huge sail like dorsal fin and soft mouth, can mean fish will be lost if you play them too hard. It pays to play them carefully, with a soft rod. They fight doggedly and with great determination, and as they are a salmonid, they occasionally jump acrobatically.
A 10-11ft rod 2 or 3 weight rod is ideal. You are upstream nymphing, using tungsten-weighted bugs, and fishing a close distance. Wading carefully upstream and pitching the nymphs upstream and letting them float down on a dead drift. As the nymphs drift downstream you try to maintain "zero-drag" for as long as possible and this is where a longer rod is useful. Keeping the rod high minimizes the amount of line in contact with the water, and this too restricts drag and helps to control the depth of the nymph.
It pays to keep the rod tip slightly ahead of the downstream drift of the nymphs, to gage this, use a bubble or blob of river foam as a marker, and go a tad faster. This will also assist downstream striking.
Varying the way you dance the nymphs around the water column pays dividends too. Sometimes as the nymphs drift into area 4 (see above) I let out a few feet of slack in my left hand causing the flies to drop and then tighten up and swing the rod into the bank and let them hang before a slow retrieve. This can pick up fish that have decided to position themselves downstream of you, hoovering up food you may have stirred up when wading. It doesn't always work, but it really pays to mix up your techniques and try to visualise what is going on sub-surface.
What type of flies/ nymphs are best for grayling?
As you can see from the box of Grayling candy below, you'll need a variety of nymphs in different weights. I split nymphs up by weight, 4mm, 3.5mm, 3.0mm and so on. As well as weight, the bulk and profile of the fly needs consideration, more on that later. When you come to fish a run, select a nymph which bounces along the bottom. If that doesn't happen by the end of Area 1 (see above), switch to a heavier nymph. Jig head hooks are more effective, because as the nymph bounces along the bottom, the hook is turned upward, so less likely to get snagged. The heavier 1 gram jig heads get down quickly in high water. On days where the water is low and clear, it definitely pays to go down to the smaller, more imitative  nymphs.
One, Two or Three Flies when fishing for Winter Grayling?
I prefer two flies in winter, though I will go to three flies in calmer days. If I fish three flies, I tend to go small on the top dropper, this is because if you are fishing a run, with a uniform bottom, the flow of water just below the surface is faster than at the riverbed, so I fish a fly with less resistance, my aim being to avoid the nymphs being dragged by the top dropper. I would space them about 12-18 inches apart from the dropper to the tail fly. I use dropper rings, 2mm Rio's and Deep my droppers to about 4 inches. They are fiddly to set up, but save time by avoiding less tangles. A good tippet with diameter of 0.16mm for heavy flowing rivers is my choice, I switch between Fulling Mill Materclass and Rio, supple nylon is the best. Naturally the greater the diameter of the tippet, the more drag in the current and therefore the more difficulty in getting the flies to sink, so sometimes it pays to drop down to 7X which measure in at a paltry 0.11mm diameter.
Generally the rule of thumb is, the heavier tungsten jig head goes on the point and the droppers are lighter. Typically my go-to is caddis, or shrimp pattern on the dropper and a small olive nymph on top dropper. These Grayling stay close to the bottom in the winter, so try to pick flies which aim to achieve the following:
Point fly tracking the bottom- first dropper about 12 inches up and the top dropper not too bulky that the current sweeps it ahead of the rig and causes drag.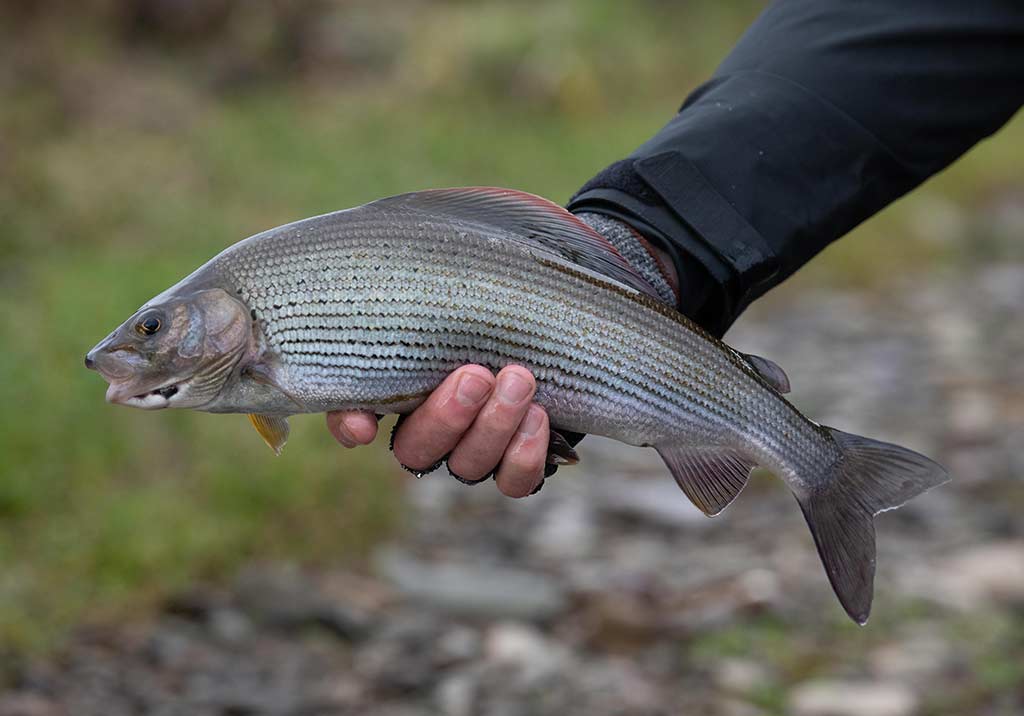 Waders, Boots, and Clothing
You need to travel light. A front pack is ideal and all you really need is tippet, flies and spare indicators. I use a small "Living the Dream' landing net, clipped to my Orvis Pro Wading jacket via a magnet. One box of nymphs and some spare tippet rings. Boom, you're good to go.
Many Grayling anglers swear by neoprene waders for winter fishing, but I prefer lightweight waders and multi layers of thermal leggings. The Patagonia Capilene thermal leggings are unbeatable, and I wear underneath a pair of Patagonia Nano puff leggings. Both are very light and allows easy movement when walking to the next pool. I would also recommend the PosiGrip Tungsten studs on wading boots with Vibram soles, not only do you get a good grip on the river bed, but when scrambling around the river bank and ascending a Bankside after a wade, you're going to get a better grip. You need to be surefooted when wading in the Winter months, as a dip in the icy water can really spoil your day.
Fingerless gloves are essential for those biting, cold days and I always carry a pair of warm thermal gloves (with fingers) for warming my hands up when walking between pools.
If you're a beginner reading this, make sure your wading belt is very tight! If you do fall in, you don't want water filling your waders up and dragging you under. Also remember if deep wading a life vest can save your life.
Another tip that works well if you get cold feet when wading, double your socks up. The Patagonia Merino wool socks are thin enough to double up, and I rarely get cold feet with this set up. Wear cheap synthetic socks, and you will have cold feet, and that can be brutal.
It's rare when fishing in Scotland for Grayling to see another angler in your day. There is an abundance of water and the fish are spread throughout the river. Take a look at the photo below and your probably looking at ideal Grayling habitat. A strong current on the far bank and a lovely seam running on the nearside, with a gravel bottom. In an even current like this, these Grayling can use that dorsal fin in the current to their advantage, and put up a hard fight.
Grayling will shoal, usually when the frosty weather sets in, and yet sometimes bigger fish can be found on their own. When you hook a big grayling it will surprise you the power it has, using its large dorsal fin and the current it can be hard to shift them. As they have soft mouths, it's best to try and steer them towards slacker water (see photo above), and if relevant, away from the shoal.
Techniques for Euro nymphing for Grayling
This is a method where no fly line is used outside the tip of the rod. A 10-11ft 2-4 weight rod is ideal, though I favour an Orvis Clearwater 10ft 2 weight. The technique is to pitch your flies upstream and aim for a drag free drift, holding your rod tip up and suspending your dropper nymph up while letting the tail nymph bounce on the bottom. Your sight indicator should be just above the water line and visible enough to see subtle takes. The takes come in different guises. The 'Stop Take' is when the nymph just stops and it pays to strike as this is a subtle take and can be easy to miss. Sometimes, the rod lunges over when a fish grabs the nymph and turns, this is the easiest to detect and set the hook and sometimes there's the subtlest of plucks as the nymph is hoovered up, but you have to be quick, because it can be spat out as quick as it is picked up.
As you are relying on the nylon to project your flies upstream, it can be tricky getting comfortable with casting two or three flies and avoiding tangles. Find a technique that works for you and try to get into a routine that works. When trotting the nymphs down a run, strike downstream, this will have a greater chance of more secure hook ups. Fish face upstream (obviously) so as the nymph is hoovered up, a swift downstream strike sets the hook often on the scissors rather than the front of the mouth (precarious).
This is why I prefer a 2 weight 10ft rod, firstly because I can feel everything as the nymphs tack down on the bottom. Secondly I find casting with nylon only,  easier, and thirdly, when into a big fish, the rod is very forgiving and sudden lunges by a running big fish are soaked up in the blank.
I highly recommend the Orvis Clearwater 10ft # 2 weight. It's a real gem of a grayling rod. You can read a full review here.(link to be added)
How to read a river for Grayling
A common question asked is how to read a river? It's very subjective, and dependant on both the river and the water levels and conditions, here are a few tips.
Start by asking yourself, where do you think an abundance of food will be channelled to, where is there shelter nearby if there's a flood and as Grayling like uniformity, where is there a gravel bottom, with these aspects close to hand. Sometimes foam in the surface is a great indicator to how food is channeled. Try to visualise the river bed and when exploring beats, draw a map in your minds eye based on how your flies fish.
When I find a likely spot to prospect, I try and draw a map in my minds eye of where the fish are likely to lie. I then cover every square in the grid, a bit like searching for a hidden destroyer in a game of battleships.
If you find fish and catch a few, sometime the grayling can get spooked and head upstream, so it pays also to try and run through the pool again after letting it rest, but start further upstream.
Be aware also that as the river level rises fish are less likely to stay in the same runs. Often in higher water, the fish will drift into the seams where slacker water is. Try to think like a fish, where would you go to get food, where could you get shelter? Look at the way the river channels flow, and read signs like foam lines. Be the fish!
An Ideal Grayling Leader Set up
When nymphing there are various methods of leader set up and I'm not saying mine is better than anyones, but this rig works well for me (and guests) and catches fish. It also offer a real touch experience, you can really feel what's going on as the nymphs track downstream bouncing along the riverbed.
I'm not a fan of tapered French leaders, as they are thicker than my set up and thus prone to wind resistance. I like fishing fine and delicate.
First of all I use a low diameter fly line, like Mastery Nymph line. I never have any of the fly line out of the end eye, and if that happens, its because I have a big running fish on. If that happens, (firstly I'm a happy man) and secondly, I want the fly line to be low diameter, so that it doesn't drag in the current and add more resistance.
On the end of the fly line, I tie using a perfection loop to 20ft length of Amnesia 8lb memory free nylon (available in three colours). This is attached with a three turn dropper knot to a 18 inch length of indicator tippet. I use the Rio indicator tippet or simply a length of Amnesia (fluro colour which is marked at intervals with a permanent black marker) both work well. Where the three turn dropper knot (attaching indicator tippet to 20ft length of Amnesia) I snip off only one of the tags, leaving the visible tag sticking out. I then tie the again with a single granny knot so the short length of tag sticks out at 90 degrees. This is another useful sight indicator. The sight indicator is then terminated with a 2mm dropper ring. To that, I then tie the leader, which varies in length according to the conditions. usually about  8ft with two flies. the heavier jig fly on the point. I tend to fish tippet about 0.16mm for heavy flows/ rivers/ fish and 0.10mm diameter for finer fishing. Naturally the finer tippet has less resistance, so gets the flies down quicker.
The best rivers in Scotland for Grayling
The best grayling rivers are located in the south of Scotland. The River Tweed has a healthy stock of grayling throughout the system, and the tributaries like the River Teviot, River Leader, Gala Water, Ale, Jed Water, River Ettrick and The River Whiteadder all hold stocks of grayling. I have caught grayling in all of these tributaries, and sometimes they are worth exploring when the main River Tweed is in spate.
In the South West, the River Annan is a superb grayling river. It rises Annanhead Hill and flows through the Devil's Beef Tub, Moffat and Lockerbie, reaching the coast at Dumfries and Galloway.  This is a smaller river than the Tweed both in size and flow, it holds a good population of grayling and some real specimens. Whilst down in Dumfries and Galloway, the River Nith is a great salmon river, but holds grayling too and in my opinion gets less grayling pressure than the Annan.
Further North, the River Tay and River Tummel hold good grayling shoals, as does the River Earn
The River Clyde holds a good population of Grayling, though it's not a river we focus on, the spoils on the Tweed, Tay and Earn rivers keep us and our guests occupied.
Summary
Winter in Scotland can be a dark and dreary affair. The devastating effect Christmas has on your wallet, the weather, lack of sunlight and following a football team as mediocre as I do. Also what a great way to keep your angling skills sharp, till the start of the trout and salmon seasons!
Take my advice, get out in a Scottish Winter and fish for grayling it's good for your soul, mental health and sharpens your saw!
I hope this article helps you and whets your appetite to target the Lady of the Stream. Tight Lines and keep those grayling wet when releasing.
If you are looking to join us for a grayling trip, please go here.
==
Written by Stewart Collingswood founder and Head Guide of Alba Game Fishing
Alba deliver fishing trips and bespoke fishing vacations throughout Scotland for the last 16 years.
---